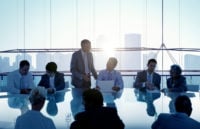 The key to your next NED role is to network with both experienced and aspiring non-exec and board members.
Why is this relevant? 
Often the first people who know of an upcoming NED role are the board members of that organisation.
When they are looking for the next position to be filled, you should be on their radar.
How do you get to this point?
Meeting over numerous occasions provides the opportunity to get to know your board peers better, allows for greater insight into your background and expertise, as well as to get a better sense of you.
Roles won't necessarily materialise then and there but, when there are changes at the board level of an organisation, your continued relationship with your peers well places you to be considered for a relevant role.
So whether you are looking for your next role now or not, the importance of establishing board level connections is essential in a successful non-exec career.
Where can networkers go wrong?
When networking, consider more than just the obvious.  Sometimes those you speak to may not be a current NED, but the chances are they will sit at board level and have insights into upcoming NED or board level roles. At some point they will also likely become a non-executive – the stronger the relation you create with them, the better for your next appointment.
They may also hail from a different sector and background but this can also be a good thing.  For example, their skills will most likely be complimentary to yours.  The board of a marketing company will still seek a NED with finance experience, and so on for other roles.  If that is where your strength and background lies then your conversation can still be worthwhile. Undoubtedly many board level skills are translatable to a variety of companies and sectors.
So what's the take home message?
Don't discount the opportunity presented in networking. It can just as well be the unlikely conversations which lead somewhere as the more obvious ones.
Our monthly networking events are the perfect occasion to connect and establish relationships with your NED peers, whether you are imminently looking for your next NED role or not.
If you cannot join us for an event still take other opportunities to meet with your non-exec and board member peers. Patience and persistence is the key to your non-exec success.
Crucially, consider your skills set and USP for when you do have these conversations! 
What are your thoughts for accelerating your NED career? How did you manage to effectively communicate it in a networking event?