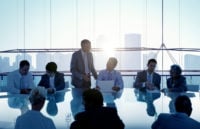 A topic particularly relevant at the moment is corporate governance for UK business.  To 'further enhance our competitiveness', the UK government is looking to strengthen the UK's corporate governance framework, issuing a Green Paper, Corporate Governance Reform, on the 29th November 2016.
Responses to the Green Paper are submissible until 17th February 2017.
For a reminder, the current UK Corporate Governance Code (most recently updated in April 2016 by the Financial Reporting Council) is available here.
At the end of November, NEDonBoard hosted an event highlighting some of the background for, and aspects of, corporate governance and boardroom culture for non-executive directors.  To share your views on corporate governance with the non-executive community please email [email protected].
To view upcoming NEDonBoard non-executive director focused events visit here.