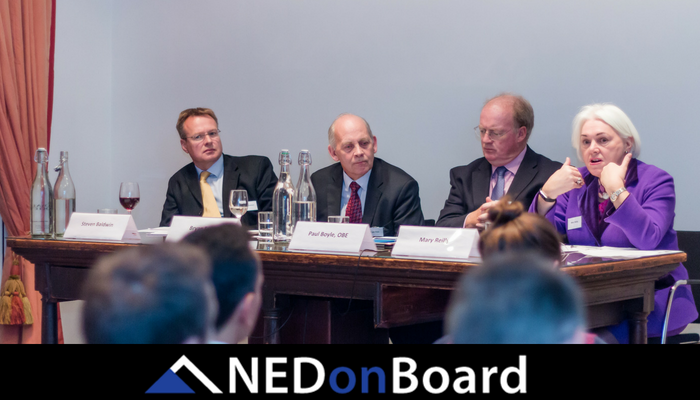 This year we published our Board Best Practice Guide to the Audit Committee. The Audit Committee's main rule is to hold management to account. It acts as an early warning system for the board and is independent of the Finance Director and CEO. As you know, this is the third line of defence: it provides "independent assurance, above all internal audit."
But what is best practice for the Audit Committee?
Following the NEDonBoard event we hosted, here are my usual three takeaways:
With the exception of the financial industry, there is a great benefit to merging the Risk & Audit Committees.
An effective Audit Committee should be in line with the right culture: in essence, it allows you to speak up earlier. If something goes wrong, you know about it and you can stop it sooner.
Transparency and a well-run Audit Committee adds value to organisations that evolve in an incomplete information environment and limited time constraints.
As always, I would like to thank Bryan Foss, Mary Reilly, Paul Boyle, OBE and Steve Baldwin for their contributions. To view the full guide, just log into www.NEDonBoard.com
I am also sharing two good quotes from our contributors:
"Effective audit committees get the respect of management, because they are tenacious yet pragmatic" ~ Paul Dillon-Robinson

"It is essential for an audit committee to continually develop it's effectiveness in terms of robust challenges and constructive relationships with key stakeholders and each member must be empowered to maximise their personal contribution" ~ Paul Redferm
As a side note, we encourage professionals to gain experience on small external committees and boards to build their expertise. Ideally, your organisation will support such board and committee development because it can benefit the wider management team. If they don't, speak to us, we will educate them on the importance of a well-functioning Audit Committee.
If you would like to know more about the NEDonBoard board best practice series, contribute to one of our upcoming documents and panel events or suggest topics worth assembling a task force, please contact [email protected].
If not already done, you can become a NEDonBoard member by following this link.