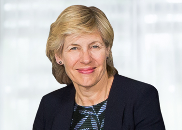 A physicist by background, Ruth Cairnie has strong strategic and commercial experience gained at Royal Dutch Shell Plc where she held a number of senior international roles.  Ruth is currently a non-executive on the boards of Rolls Royce, of Associated British Foods and of Keller Group. It was great meeting and interviewing her following a NEDonBoard panel evening. The interview is insightful for both board members, as well as professionals considering a non-executive career.
How did you first become a NED and progress your NED career?
A: I think first of all, when I first got my first non-executive role, which was 6 years ago with Keller, I had already 33 years of experience. And although that experience was all in Shell, it was very, very broad. So I'd done M&A, I'd done strategy and capital allocation, I'd run global commercial businesses, I'd done a lot of change management, so I had a lot of different experiences that were very relevant to different companies. I think the other thing that was really important was to effectively launch a campaign.
So I decided I wanted a non-executive role… it was by no means easy to get that first one, and I really had to think about a marketing plan, how to translate all my experiences into exactly how they would be important for different companies, building my network, building my profile. So it was quite a concerted effort on my part to get that first role. I think since then, once you've got one and you're established (and I then took on the chair of the remuneration committee), you get established that you're credible to be on boards.
The other very critical thing I did then was to do one last executive role, which was running group strategy. I think that was something that people immediately can grab, you know. Strategy in Shell, they understand that. It gave me a lot of interaction with the Shell board, and I think that was really crucial in enabling me to then move to some very big FTSE 100 companies.
What challenges and similarities have you experienced between the boards you have been on?
A: So I think in some way, moving to a new board, there are also always things about it that you don't expect, because it is ultimately a group of people, and how they interact and the relationships and so on – you can't possibly know until you actually experience it. And also, I think there are always surprises. So with my first non-executive role, I think I'd been on the board one month and we did our first profit warning, followed by several more. You know, the business is always changing, and so there are always new things coming along and new issues and challenges to be addressed.
On the other hand, I was very, very careful in selecting boards to think about how inclusive and open they would be. Choosing boards where there were no egos, where I'd met all of the board members, and so everyone's really there working inclusively, collaboratively, for the good of the company. And that's been something very important for me. I think in terms of what the boards are addressing, you know, it is really specific to the business, the situation that it's in, and they all have their own challenges. And that's really what brings, you know, an awful lot of fulfilment from the enormous diversity and variation that there is.
Many professionals with portfolio careers become non-executive directors to gain extra experience, income, and contribute their skills to new boards. If you want to raise your NED career to the next level, please visit: www.NEDonBoard.com