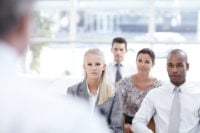 Jan 2017
This article is written by Marianne Macdonald, a NEDonBoard NED Ambassador, expert in non-executive director placement, and as Founder of Non-Executive Directorships Consulting, she is now focused on helping senior individuals from all sectors and backgrounds gain a NED role or create or jumpstart a portfolio career.  
Continued from Part 1…..
How do you build a portfolio?
For most this is a complex challenge, and for most it takes a good three years, but for the aspirant NED there are five priorities. You need to get your CV right (a Board CV differs from an executive one – different experience, themes and skillsets are highlighted); you need to network; you need to get in front of board search firms; you need to publicise yourself on the appropriate platforms, and you need to understand as much as possible about the world you are entering: board expectations, competitive landscape, governance, attitudes. Read, talk to your friends and contacts who have a portfolio, attend events (sometimes depressing, I know, but they can be helpful). One of the few lawyers who sits on a substantial FTSE board got her NED because she got chatting to a chairman at an event. Luck plays a part. The big picture: many, many people will probably want the role you are considering. Head hunters are very busy. Chairmen may have their own agenda. Just because you are longlisted, you may not get the job.
When you get to interview stage, don't make the usual mistakes. Don't underprepare – it shows. No chairman warms to a candidate who hasn't read up the basics of the business. "He just didn't seem to know anything about us," he or she will say, looking irritated and/or perplexed. Ask the head hunter, if there is one, to provide brokers notes, if relevant, and a formal briefing. Other candidates won't, and you will be ahead of the game. Read the annual report, if there is one, and the prospectus, if the business recently floated. Read up on competitors. Understand your potential board colleagues. Google their backgrounds and work out where you could fit in amongst them. Where do you add value or difference and where do you overlap with their experience? If the latter, think through how to talk about this and how, in fact, your skillset is different. But preparation should be more creative. On one chairman search I worked on, for a leisure group, the only candidate who bothered to go and stay in one of the hotels owned by the group got the job. Obvious, perhaps, when you think about it. Which leads to the next point. Be enthusiastic. Really want to join the board. There is nothing more off putting to a chairman than a candidate who is unenthusiastic about his/her business. If they don't care, they shouldn't be there. Of course, you may want to know more about the balance sheet or the board culture; this is natural due diligence. But if you have an instinctive aversion to gaming, don't go up for a NED role on Paddy Power Betfair. If, on the other hand, you are really interested in a gaming business with a strong retail and digital element, visit the shops. Go to several, in different parts of the country.
Finding a NED is not unlike dating. Chemistry is vital. The chairman, sitting with you in a head hunters' office, or in his company head office, will be thinking about how this plays out from a number of perspectives. One search I worked on had three male former CEOs on the board, as well as the business's own CEO.  The testosterone level was high, and the chairman wanted someone who would balance, rather than exacerbate, it. The chairman will be thinking more generally about what it will be like to chair you, and how your style will play out. It is disruptive to have a board member who is too rigid or retentive. It is a collegiate role, after all: once a collective decision has been made, there is a need to let go and move on. If a chair role, will the investors support him or her, based on their track record? One female NED is well known to board head hunters for her abrasive style. Her experience propelled her to a strong plc portfolio, but several executives who had served alongside her on her boards complained to me about her approach. She had roundly alienated them with her critical and antagonistic attitude. Interestingly, one of the reasons that I later helped place her predecessor on a FTSE100 board was partly because he had such a charming, easy-going, cooperative style; you felt that everyone, including the chairman, breathed a sigh of relief.
Another tip: don't talk too much. This is the biggest fault of candidates of both genders. Chairman have complained to me, dryly: "I asked one question and s/he spoke for the next 20 minutes!" Right there, you have lost them. They have a number of things they need to find out about you to establish if you are a fit for their board. If they can't establish these things, how can they pick you? Equally, don't be laconic. This is off putting in another way. Answer their questions: give real life examples, try to be articulate. They need to get to know you. A caveat: don't tell them what you are. Don't, for example, as one candidate did to me, announce three times that you are innovative and creative. Don't say it once. Let the head hunter or the board member draw their own conclusions. (The same applies to your CV.)
In a similar vein, don't think it's okay to wear your best suit from the late Nineties. It will look dated and depressing. Spend £500 on a new one, and shoes and a bag too, if you are a woman. Be current. If you are not current on a board, you are not helpful. Don't boast, don't instruct, don't complain, don't use your session as therapy. Don't make the common NED mistake of telling your new board how your previous board did things (better). It will annoy them. Make it clear in your conversation that you are thinking as a non-executive rather than an executive – a common pitfall for the starter NED. And don't fall for clichés: you can take the first board that comes along: it might be your best offer, not least because there is noise around you (you are retiring, say, and on people's radars). You don't need to take a FTSE100/250 board to establish your credentials at the right level; it might be just as useful to take a good Small Cap and that way get or maintain current plc experience; certainly better than waiting for another three years, if you are an executive, as by that time you could have served an entire term and be joining another board, no longer "with no plc". Never underestimate the degree of competition. Never underestimate how busy a headhunter is. Never underestimate how far persistence can take you; but balance that with how alienating it can also be.
Finally, remember that you are there to give, not to get – a board is not there to pay your bills or to advance your CV, certainly not in the mind of the chairman. One candidate I handled lost herself a job by asking career advice of the NEDs she met in her interviews for a substantial FTSE board. Everyone was perplexed by her approach. Don't be frightened to ask for feedback – from headhunters, from your chairman, your CEO, your advisors. And do your due diligence. It's flattering to be offered a role, but remember that it might be because it's a poisoned chalice and could destroy your budding board career (sitting on the board of Yell Group latterly did no one any favours). Equally, your NED offer might be a terrific opportunity to work with smart and able people, to get a fascinating insight into a new sector, service or geography, to give back, and help a fantastic business, school or charity to grow.
---
Echoing Marianne's notes, from the Team at NEDonBoard, it is crucial to fully research a company you are looking to join the board of; if the information is not immediately accessible it is worth considering how / where you may be able to find out more, or ask for it.
Marianne's experience stems from headhunting FTSE NEDs and Chairmen.  If your interest lies in the charity sector, The Sunday Time's (albeit dated 2015) article is an interesting read.
---
Marianne Macdonald is an expert in non-executive placement. She has deep experience in non-executive search from her time at The Zygos Partnership, the UK search leader in non-executive recruitment. She has an extensive network of board, NED, chair and search connections, and in-depth knowledge of UK's corporate governance, landscape and history, and of the individuals who sit on UK boards. She has spent the majority of her career in assessment at the most senior level. As the founder of Non-Executive Directorships Consulting, she is now focused on helping senior individuals from all sectors and backgrounds gain a NED role or create or jumpstart a portfolio career.
Email: [email protected] Website: www.nonexecutivedirectorships.com