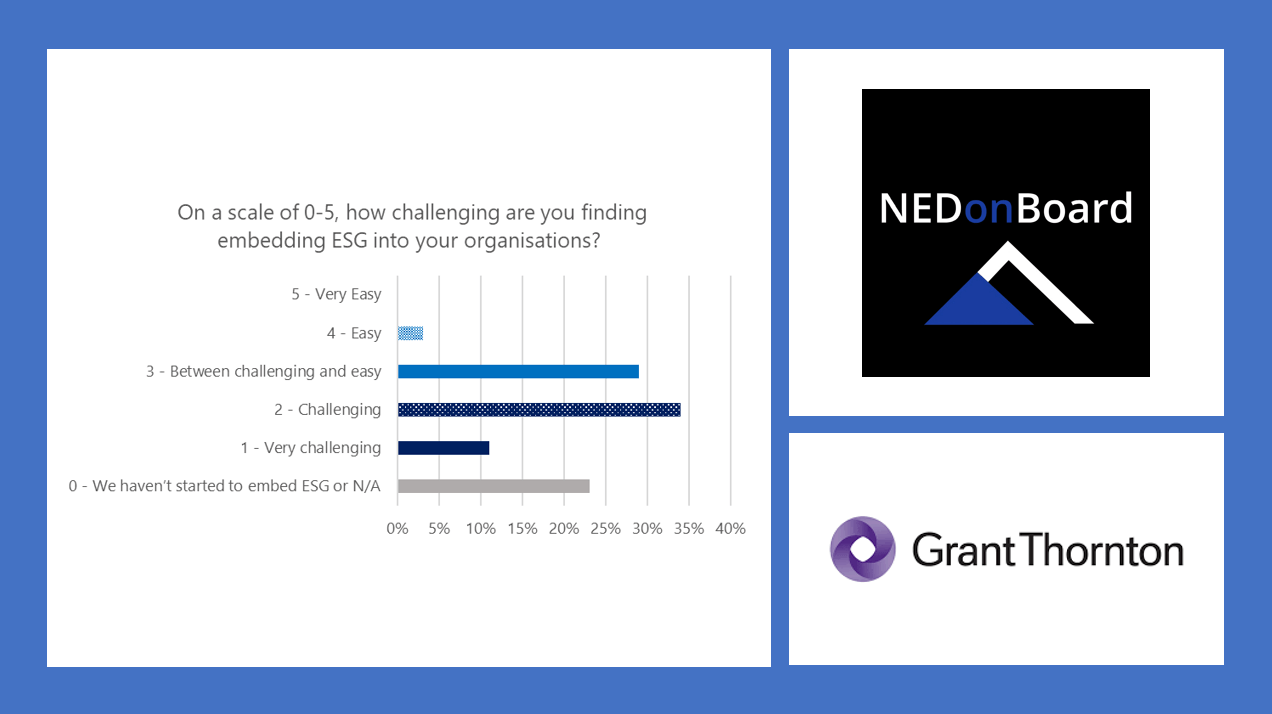 On 8th June 2021, NEDonBoard hosted Grant Thornton for an educational event aiming at defining ESG and providing insights into embedding ESG into strategy. Darshita Gillies, portfolio board member and founder and CEO of impact platform Maanch, contributed her expertise and experience to the discussion.
Guest speakers
Steve Holt is a partner in Grant Thornton's forensic and investigations practice, where he advises boards navigating complex risk and reputational issues. His recent work has involved helping clients involved in Operation Car Wash in Brazil, investigations connected with the 1MDB scandal in Malaysia and assisting the independent review of Boohoo Group Plc's Leicester supply chain in the UK.
Sonia Shah is an experienced regulatory professional who has worked in industry and practice for over 20 years, advising a wide range of FTSE250 clients across banking, asset management and insurance. Sonia has worked closely with C-Suite, NEDs, boards, and other senior leadership teams on a wide range of projects. She currently leads on the ESG and Climate Risk for Financial Services at Grant Thornton in the UK and support globally, as well as overseeing matters of regulatory governance in the finance, risk, and compliance team.
Darshita Gillies is the founder and CEO of Maanch, a UK-based B Corp developing technology to measure, monitor and report on the impact of investments, organisations, and philanthropy, through the lens of the UN SDGs. Darshita's professional foundations are as a Chartered Accountant, operational risk manager, investment banker, executive coach as well as fintech blockchain specialist and ESG impact evangelist. She serves on the boards of several for-profit and no-profit organisations.
Session agenda
The objective of the session was to demystify ESG and provide a roadmap for non-executive directors and board members to develop and embed an ESG strategy for the organisations on which boards they serve.
The presentations from Sonia Shah covered:
Introducing ESG
Developing an effective ESG strategy
Addressing ESG with the board, in particular the role of the board and the senior executives
Embedding ESG
Darshita Gillies provided further insights, drawing on her experience as a trustee and non-executive director as well as founder of an impact platform.
Steve Holt chaired the session.
Headlines
A wide variety of topics comes under the ESG umbrella.
Embracing ESG has become a requirement for organisations to be enjoy sustainable long-term growth. As sustainability views differ among stakeholders, their perspectives must be factored in developing an ESG strategy.
ESG is transformational so the boards and key senior executives have an active role to play. Boards are responsible for developing the strategy and approving the risk appetite, while CEOs are in charge of designing the business model that incorporates ESG. The board sub-committees have specific responsibilities e.g. the audit committee oversees disclosures, the remuneration committee ensures that pay aligns with ESG targets, etc.
ESG is a journey taking place over a time period. It is important for the board to set the right tone, equip the executive team and communicate with stakeholders.
Darshita Gillies's pearls of wisdom
Mrs Gillies referred to section 172 of the Company Act 2006 and emphasised the importance of purpose. The ESG strategy developed by a firm must be anchored on a clearly-articulated purpose that encompasses broad responsibilities towards stakeholders.
Key questions for NEDs and board members:
Does our board have expertise and skills to oversee ESG risks? Does the board need training and upskilling?
Should we establish an ESG or sustainability committee?
Do our terms of reference incorporate ESG?
What competitive advantages would we be gaining as we develop and embed an ESG strategy?
In the Q&A session, the panellists addressed questions on cost, data, governance.
Event Slides: NEDonBoard/Grant Thornton co-hosted event, ESG & Strategy
Please see below the videos of the presentation.
Part 1
NEDonBoard thanks the speakers and the audience of board level decision-makers for their contribution. We appreciate the great feedback you sent us!
"Thanks for great insights"
"That was very useful, thanks all of you"
"Excellent session, many thanks"
"Fascinating session"
"Thanks for an interesting debate"
"Very informative"
"Thanks for such a rich session"