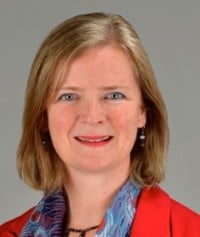 Sally Bridgeland shares her experience of what it's actually like to be a non-executive director and interestingly for any of you aspiring NEDs, some aspects she was less aware of before she started her non-executive career.
Since the autumn of 2014, Sally Bridgeland has been building a portfolio of roles and is now non-executive director and investment committee chairman Royal London Group, non-executive director at Impax Asset Management Plc and trustee at both NEST Corporation and the Lloyds Bank pension schemes. Sally serves on the Trust Investment Committee of the innovation foundation, Nesta, is a member of the FTSE Policy Group and is Senior Warden of the Worshipful Company of Actuaries.  She chairs the trustee board of Executive Shift, a charity which she founded.
Sally was previously the Chief Executive Officer of BP Pension Trustees Ltd and has served on the Council of the UK actuarial profession, chairing a number of its boards, committees and working parties.  Sally's LinkedIn profile is: https://uk.linkedin.com/pub/sally-bridgeland-fia/9/339/a6b

1) What has been most rewarding in your experience as a non-executive director and trustee?
It's difficult to choose but here's my top three:
The teamwork.  Working with a group of talented people whose experience and perspectives differ from mine to help make better decisions.
 Being ultimately responsible for organisations which make a difference to people's lives.
 And, the unexpected one, the intensive but satisfying effort of doing the preparation and performing on the day of a meeting.
2) Do you think there is a need for greater diversity and women on boards? What impact does this have in your experience?
Diversity, yes. But it's not just about women.
In my past role as an adviser I've been a bystander in many board meetings. A group of men with similar cultures, academic backgrounds and career choices will have a certain way of doing things which leaves a lot unsaid.  They simply, and honestly, don't know what they don't know.   But, critically, alpha men can go unchallenged. The group has an unwritten pecking order which all observe.
Unconventional men – and most women – simply don't see the barriers and can and will, innocently or deliberately, speak up.  Importantly, the alpha man may not find them threatening and will respond constructively.  This then opens the way for all to join in.
I've experienced this in the past: an uncomfortable silence or people fussing around some irrelevant point, no one wanting to be the first to mention something bigger, but everyone piles in as soon as you do!
3) What are the things you wish you were more aware of when you first started as a non-executive director that you have now learnt?  
Before I started I spent a lot of time talking to people and asking for their insights on what it was really like to be a non-executive. Two things I particularly remember which are vital: choosing boards with an experienced chairman that you feel relaxed with; and finding boards where you have something to contribute to a committee, drawing on your experience to help it tackle a particular challenge.
Three things which I was less aware of:
 The extent to which executives assume you know and remember everything from day one! There's no easy way round this.  Having all the induction process at the start without the context means that it doesn't sink in, but plunging in at the deep end of papers and meetings without a background briefing is equally challenging.  Pacing the induction and taking a dose of patience helps: by some marvellous process of osmosis, things click into place. But you still need a crib sheet for the acronyms: I also have a little notebook for each role with a glossary of project names and abbreviations in the back!
 Being systematic to help you prepare for meetings. When I'm working through papers I colour code my highlighting – things to remember (blue), things to ask about in the meeting (yellow) and things to ask about outside the meeting (pink).  This helps me focus both my talking and, more importantly, my listening in the meeting.
Starting at the same time as another new director is very helpful.  You hit the learning curve together and can compare notes about both the content and the relationships.  It's a good mini-support group and can help give you the confidence or courage to speak up.
Now that you know more about some of the likely 'new to the role' experiences you may have, do you feel ready for taking on a NED role?