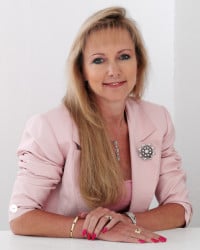 Sharon Constançon compares the role of a NED on FSTE 100 boards to smaller companies and provides her thoughts on what makes for an effective board.
Sharon has broad board experience gained through working in various roles, such as a Non-Executive Director, Chairman of Conduct Committee, and member of the Risk, Remuneration and Nomination Committees.  Her particular area of expertise is assisting organisations within financial services to address and resolve issues related to risk management and regulatory compliance.  In her capacity of an independent board evaluator, Sharon has been involved in helping Boards find nuggets that make them more effective and incorporating EQ/IQ balance in boardroom discussions and behaviour.
1) When evaluating the effectiveness of a board, what is it you look for and assess?
The two key areas that need to be assessed in the first instance are leadership and communication. These two categories determine quality of meetings, forum for debate, topics debated, quality of the input contributed by board members, support, challenge and responses. Chairing a meeting well is an art in its own right; regrettably, too often this skill is missing.  When that happens, it is important to review the steps that the Chairman can take to bring value back to his boardroom environment and the organisation that he leads.
2) What do you think are key non-executive contributions to a board?
In my opinion, there are two key contributions that a non-executive director can bring to a board.  The first one is knowledge and expertise gained in a particular industry along with the ability to relate that experience to add value to the specific debates in the current boardroom.
The second is the independence of mind and thought.  This means having the courage and the ability to ask "why" in a constructive manner – the one that will equally hold the executives to account but also progress boardroom conversations to satisfactory results and follow-on actions, support the goals of the organisation and the steps being taken to the CEO to achieve this outcome.
3) How complex are non-executive director roles on FTSE 100 boards compared to other smaller companies?
In many ways a FTSE board is easier, however the risks are higher and the ability to have a handle on the detail is not as feasible. A smaller company requires a different kind of NED – someone who is more of a coach and mentor with a good black book whilst also being independent. For a FTSE board the requirement is to be more strategic, the information will be less detailed and the work of the committees more important. Stakeholders, shareholders, analysts, investors and community players – they all have varied degrees of result expectations and they all exert almost unmanageable influence on the company. Therefore, shareholder communications and considerations are critical. Whilst it is important to have a trusted line of sight into the business and get under the skin of issues, equally it should be done in a measured and considerate manner that does not cross the divide into executive activity.
4) What are the key governance issues / considerations a new non-executive director should be aware of?
Carrying out good due diligence and induction are key factors to enabling a non-executive director to do the job well. In addition, NEDs should understand that their roles are that of an influencer and not a decision maker, and therefore, in their non-executive capacities NEDs must not try and do an executive job. A NED does have direct influence over the information they receive and are therefore responsible for ensuring they have adequate decision support information.
Readers, now is a good time to consider what information you need to request to ensure that you are well informed in your NED role.