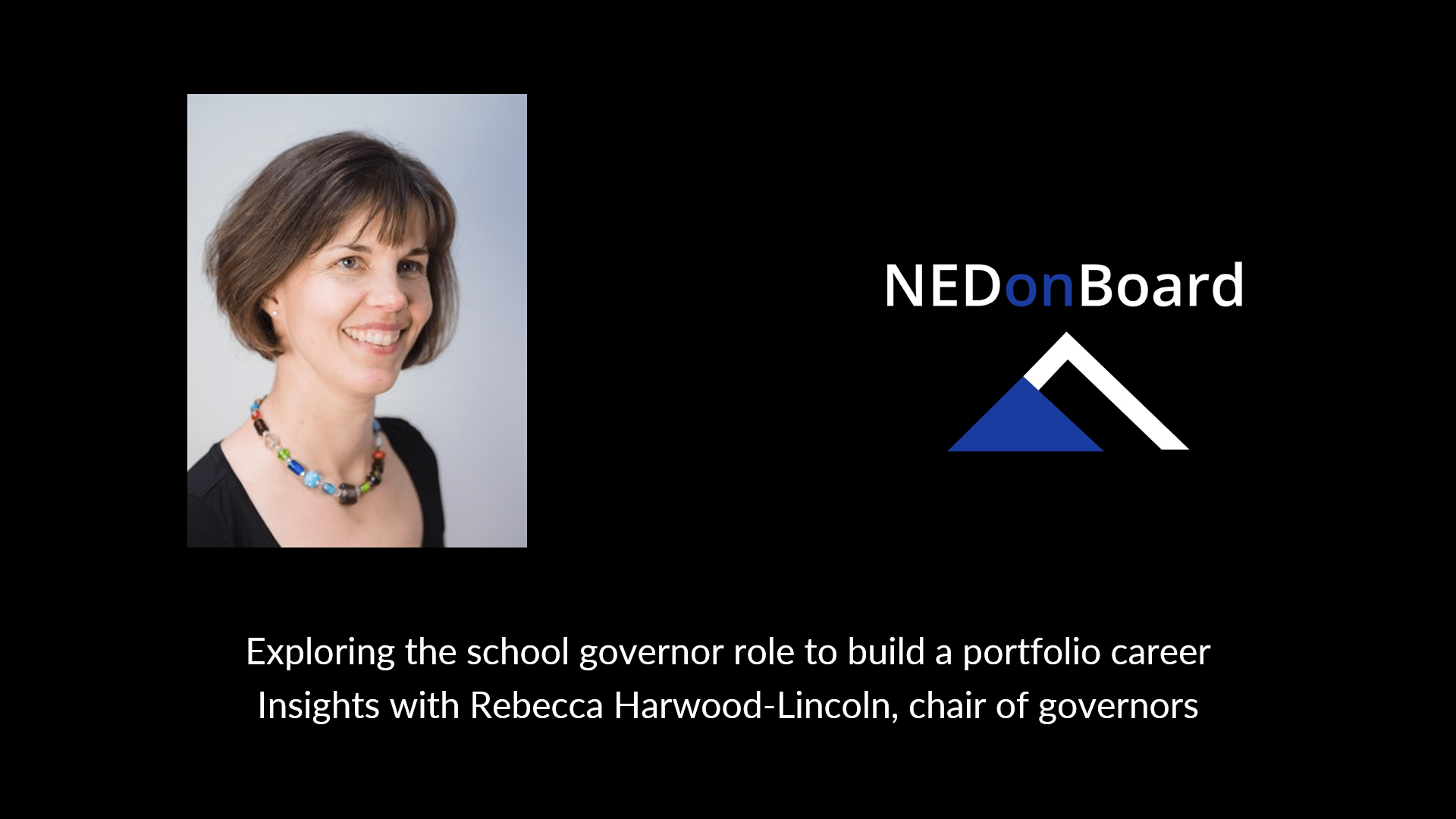 Start your journey to the boardroom with a school governor role
Recommendations and guidance from an experienced school Governor and Chair of Governors
If you are starting your journey to become a non-executive director, you might want to consider becoming a school governor as a first step to building your portfolio career. The jobs board at NEDonBoard frequently advertise schools that are looking for governors, and you do not need to be a parent at the school to apply. You can also contact a local school directly to see if they have vacancies, and in my experience they have been delighted to vote in a proactive governor to join their board.
New school governors will join a board with a governance structure already in place so that you can watch and learn with each meeting you attend. You will get a fascinating insight into the running of the school, and a huge amount of respect for the teaching and non-teaching staff for the challenges that they face.  Having been a school governor in 4 state schools over 20 years I have enjoyed my governor work immensely and value making a difference in improving the education and quality of life for pupils.
The role of a school governor
As with NED roles, school governors are responsible for the strategic direction of the school and act as a critical friend to the headteacher and senior leadership team. They are also responsible for overseeing the financial performance.
Meetings
There are 3-4 full governing body meetings each year, as well as a number of sub-committees to attend. Governors are often invited to open evenings and school events in order to gain a better understanding of the school, which is a great opportunity to speak with staff and parents. From a time commitment point of view you will need to be able to commit of half a day a month, though there will be months where you have very little to do, and before meetings you will then be busier. If you chair a subcommittee your time commitment will be greater and depending on how often you visit the school, this can be between 1-2 days a month.
One good thing that has come out of Covid, as with so many boards, is that whilst most governor meetings are now thankfully face to face, virtual meetings, and a blend of virtual and face to face meetings are now the norm, so those people who cannot attend a meeting in person, can still join virtually.
Subject and Policy Links
You will be linked to a subject lead within the school with whom you meet a couple of times each year to review the general aspects of the subject and get a better understanding of the challenges of that department. As a governor we are not responsible for inspecting or commenting on lessons or workbooks. If I get the opportunity to informally chat with pupils, I learn a lot about what matters to them, and this helps with decision making in board meetings.
Training
Whilst being a school governor is an unpaid role, your out-of-pocket expenses can be claimed. There is a significant amount of training from the local authority, and I would recommend new governors to attend then courses offered that include financial management, performance management or safeguarding to name but a few. Existing governors will also find governance refresher courses available.
The first 6-9 months in your new role as governor can be daunting as you begin to understand where you fit in, and there are many acronyms used in the education sector that will be unfamiliar at first. Many schools have an informal buddy system linking new governors to existing ones, so that they have the opportunity to ask questions after a meeting when something is unclear.
You may also complement the training offer provided by the local authority with the ongoing professional development opportunities of the NEDonBoard membership.
Related post: What are the benefits of NED training courses?
Hints and tips
Many new governors that I meet do not like to ask questions in meetings, and I always try to encourage them to do so. As a new governor you can ask questions that existing governors really should know the answer to. The old adage of "there is no such thing as a stupid question" is definitely true for school governors.
Make the most of going into school to meet staff and pupils. They will thank you for your interest, and it will help you with decision making.
If you are looking to take on the role of Chair, it is much easier to be objective if you do not have children in the school. It is also helpful to have been a governor for a few years before you take on the responsibility of Chair.
As with all NED roles do your due diligence before agreeing to join the board. Being a governor at an infant school is very different to a secondary school and there are big differences between academies, free schools, faith schools etc. As part of my due diligence, I always ask to observe a meeting to see how effectively it is run before agreeing to join a board.
Most importantly enjoy getting involved. By being a school governor, you are making the difference in the lives of children and can influence their future. You are sure to find the role of school governor immensely rewarding.
Rebecca Harwood-Lincoln is an experienced non-executive director. She has been a school governor for over 20 years and is currently Chair of Governors at Bishop Wordsworth's School in Salisbury. She is a board trustee at Sparkle Appeal and at EdUKaid. Rebecca is a Business Advisor and Company Director at Harlin Limited helping start-ups and small and medium sized companies with their brand strategy and business growth. She has worked in the eyewear industry for 25 years and has in-depth knowledge of domestic and export sales and marketing and has been actively involved in brand strategy and management, opening new markets for numerous start-ups and SMEs. Rebecca has been a NEDonBoard member since January 2019 and attended our 1-day course "How to become a NED" (to which the NED Accelerator® Programme is a successor).
Are you looking to secure your first NED role? If you would like to start your transition to non-executive directorship with ease, confidence, and success, we invite you to watch the webinar How to secure your first NED role. Register at this link.
If you are looking for board updates, subscribe to our weekly newsletter.
Want to know how the professional body for NEDs and board members can support you in achieving your career objectives? Schedule a call with one of our consultants.