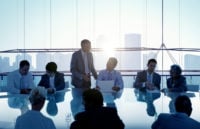 In this article, Les Green offers insights into joining the '10% club'.  He is Managing Partner of Lex Associates LLP, a specialist in the support, development and financing of fast growing companies.  He has assisted dozens of companies during past 25 years and personally launched two new businesses: he sold his first to a UK based plc after five years; and took another to AIM within three years.
In these difficult financial times, are there any ways of increasing the chances of business survival for earlier stage companies?
Les offers some thoughts…
Les:
I was recently asked to speak to a group of entrepreneurs about what it takes to build a successful business. What made it slightly tricky was that the attendees had a wide range of experience – some recently setting off on their own whilst others had already built and sold companies.
After much consideration, I decided not only to provide some tips and guidance about surviving as a new business but also to cover a topic which probably keeps more entrepreneurs awake at night than any other – the raising and managing of cash. In the present climate, where credit is tight and banks are less willing to back new applications for finance, this seemed particularly relevant.
The statistics are quite shocking: over 90% fail within five years. However, once beyond five years, most tend to continue trading with greater ease.
This led me to start thinking about how to become part of the 10% club; those businesses which make it through the first five years. My experiences suggest that there is not any "absolute panacea" or "set of golden rules" you can follow to guarantee commercial success – so what do the 10% do differently?
In truth, not a great deal. Like many other businesses, they have reliable products and services as otherwise they would not be able to secure new or repeat customers. They have a professional work force which is well motivated and in-tune with the needs of their customers and they try to get value for money from their suppliers.
But the big difference is that they manage their cash more effectively. Some of the 90% actually go under while making a profit, which instinctively sounds hard to believe. But it is certainly possible because if a company runs out of cash, and cannot secure alternative finance, that is the end.
In today's market, new companies are, almost exclusively, funded from the outset by their owners, family or friends. There is little point in these early-stage businesses trying to get help from banks or specialist funds – unless the company has a stellar management team, third party financiers will not be interested.
Now let's assume a new business owner has secured all the finance they can from their friends and family and the company is up and running. What next?
As noted above, perhaps the most important step is to ensure extensive control of cash. Those who run businesses should know precisely where they stand with regards to the cash in their business and review this at least every week, ideally every day. It is not acceptable to delegate this task to someone else in the company as it is ultimately the responsibility of the entrepreneur / business owner to manage the cash situation.
Sadly, unless the task is managed properly, there is the real danger of losing membership of the 10% club.
If the new company has survived its first few years and wishes to secure more funding, perhaps through a specialist third-party fund, who should the management team approach and what will improve their chances of success?
There have been volumes of journals and books written about how best to raise new funds but the details an investor will need include: a clear vision of where the company is heading; a strong management team that can demonstrate a good track record of delivery; and some realistic forecasts for the company which include details of how the investors will be able to realise their return within, say, three years. The latter point cannot be stressed enough.
When raising funds, a business plan will not really suffice. It generally only considers what the company is trying to achieve whereas third party investors are usually more concerned about their own position and how they can ensure an exit from the business within a few years, hopefully with a profit.
The financial climate supporting the growth of early-stage companies is quite different today even compared to a couple of years ago. Banks have largely pulled away and even businesses with seemingly rock-solid plans are finding it extremely difficult to secure advances. In addition, many specialist third-party funds have moved away from earlier stage investments and are, instead, seeking the relatively calmer waters associated with more mature companies.
That is where working with the right type of professional adviser can pay huge dividends. Personal chemistry is everything; and finding a group which you can trust to work tirelessly on your behalf will reap enormous benefits in the medium-term.
Interestingly, the void for earlier stage companies is being filled, in the main, by groups of high-net-worth individuals that have made money themselves and are now seeking the opportunity to support one or more ventures from the sidelines. In recent years, many specialist early stage funding groups have become established and it is via these agencies that many entrepreneurs are seeking support.
Let's just hope that that the new groups of high-net-worth angels prove to be more suitable and supportive bedfellows than many of the previous supporters of early-stage companies!
Perhaps, in the future, this will result in increasing membership of the 10% club.
More about Les Green:
In addition, Les has held senior Executive positions in "blue chips", including CEO for a $200m valued Nasdaq company, Director of Innovation at Cap Gemini and head of the Media Consulting practice at Ernst & Young.  Les took a double first class honours degree in Maths & Economics from Keele University and is the author of the book 'Small Companies, Big Winners'.
Lex Associates LLP: we are supporters of earlier stage, fast growing companies. Our aim is to help the owners and management teams of businesses turn "small companies into big winners". We can access a wide variety of capital but our aim is to be much more than just a source of finance. We act and speak like business people (rather than financiers) and our focus and support is always aimed squarely at the companies we assist.