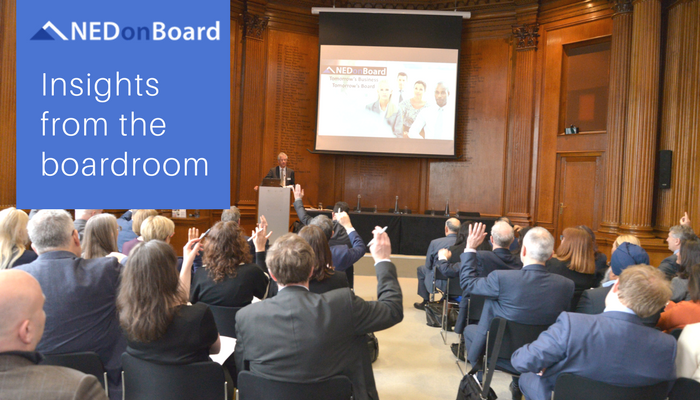 On 20th March, NEDonBoard hosted its annual conference, Tomorrow's Business: Tomorrow's Board. In this article, we are sharing some of the insights given by our outstanding speakers and panellists:  Jeremy Small, Anna Marks, Dr. Yvonne Thompson CBE, Gillian Karran-Cumberlege, Elisabeth Stheeman, Jemima Coleman, Neil Sinclair, Abeed Janmohamed and Sharon Constancon.
For those who attended the conference, we encourage you to share with us and with your network what you took away from our keynote speakers and empowering panellists. We are looking forward to hearing from you!
For those who could not attend our event, we have summarised a few highlights for you:
NEDonBoard's mission is to serve the non-executive director (NED) community, raise the standard of NEDs in the UK, champion the NED role and be the voice of NEDs in the UK.
Audience and speakers. The event was attended by aspiring or already appointed NEDs and employers looking for NEDs.
Effective Corporate Governance goes beyond the Company Act and the Corporate Governance Code. Critical factors contributing to effective corporate governance include behaviour, culture, skills, experience and integrity.
The non-executive director should focus on directors' statutory duties and monitor thoughtfully. The NED is a "sceptical friend", not a "critical friend" and plays a vital role in providing oversight and challenge. NEDs must understand the business of the company to be effective and bear in mind that each company is unique.
The Board is a team, in which the Chair plays a critical role in ensuring effective governance and promoting diversity.

"The Chair needs as good EQ as IQ" (Jeremy Small)
"The ability of the Chair to read the room is crucial" (Elisabeth Stheeman)

Diversity was broadly defined in terms of gender, ethnicity, skills and experiences. Diversity in the boardroom will be achieved through an internally grown diverse pipeline of executives and business leaders; this is the objective of A Seat at The Table programme (Gillian Karran-Cumberlege). "Intersectionality" (Dr. Yvonne Thompson) should be promoted so that the increased representation of white women on boards opens the doors for people of ethnic minorities.
Performing extensive due diligence prior to accepting a board appointment is crucial. If in doubt, recommendation was given to decline the role.
The digitalisation has disrupted businesses and their operating environment. The board and the executives must understand the risks to which they are exposed and have a clear plan if any of the risks materialises. They also have to be innovative and become digital.
Cyber security is a top priority for companies and boards. GDPR is taking us on a journey from security to privacy to trust as individuals have started taking an interest in their data security.
Laura Marianello and Elise Perraud on behalf of NEDonBoard
Laura Marianello is one of NEDonBoard's ambassadors. If you would like to know more about the NEDonBoard ambassador programme, please contact [email protected].