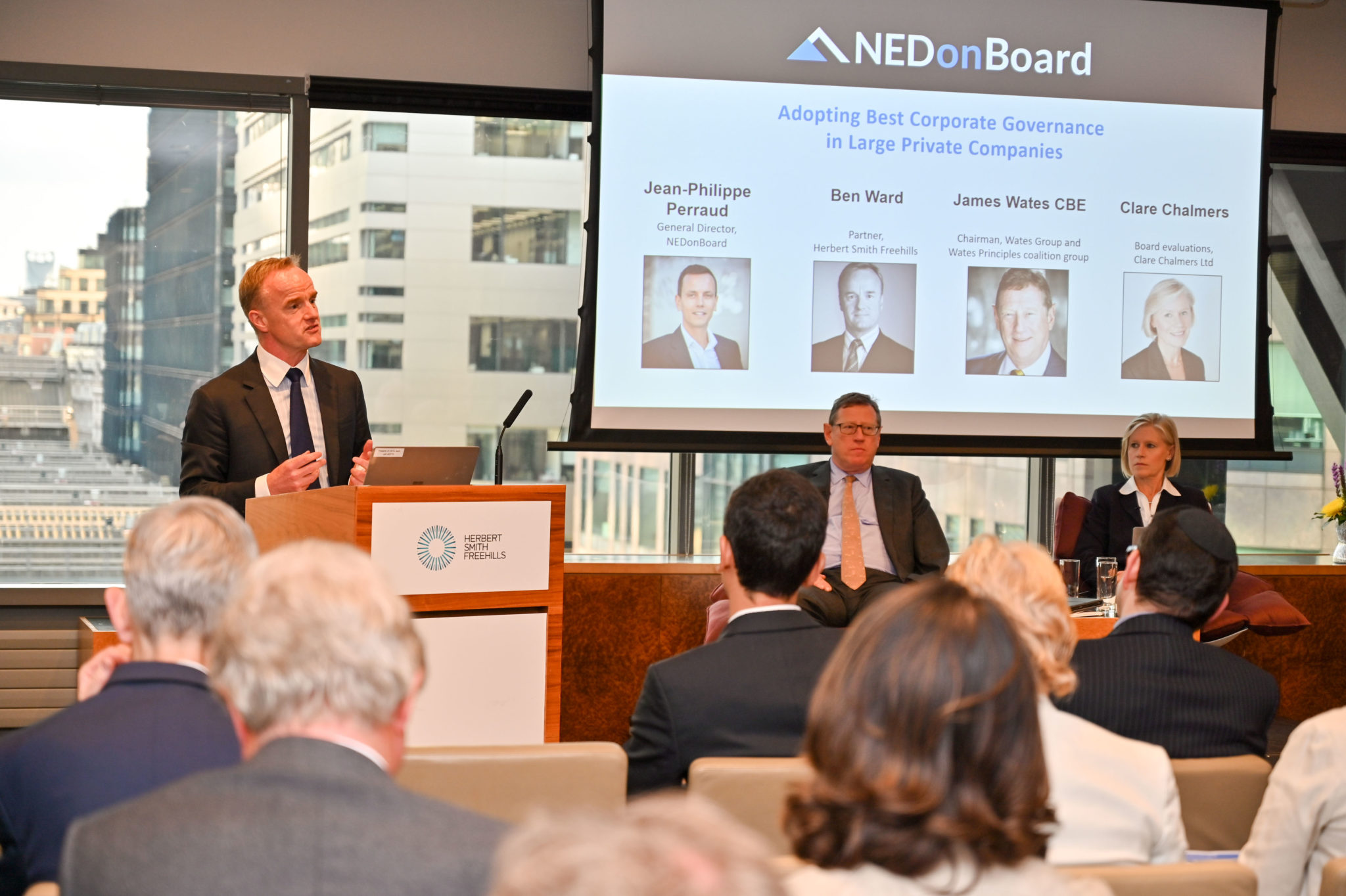 On 21st May 2019, NEDonBoard had the pleasure to welcome Sir James Wates CBE, chair of The Wates Group and chair of the coalition group for the Wates Corporate Governance Principles for Large Private Companies for an event promoting the Wates Principles. The discussion was chaired by Clare Chalmers, an experienced board effectiveness reviewer and NED, and introduced by Ben Ward, corporate partner at Herbert Smith Freehills, our host for the evening. NEDonBoard takes this opportunity to thank our speakers and Herbert Smith Freehills.
In this blog, we summarise the address made by Sir James Wates CBE prior to the discussion led by Mrs Chalmers and the Q&A session. The key learnings of the event can be accessed by members of NEDonBoard here.
Sir James Wates CBE is the chair of The Wates Group, a family-owned business of 4,000 employees. He is the 4th generation in the Wates family to chair the group. Sir Wates was approached to respond to the green papers published by the UK government in November 2016. He led the coalition group that had already been formed prior to his appointment as chair. The coalition has included a broad spectrum of participants.
The view shared among participants was that the Principles should not tie companies that are proud of themselves for being agile and forward-looking. The Principles' objectives are to raise standards and challenge companies, not to be prescriptive and focus on opportunities (not only on risks). Remuneration could not be left out while stakeholder engagement was one of the most debated Principles.
The Wates Principles should be considered as a framework. The Apply and Explain approach differs from the Corporate Governance Code. The coalition resisted pressure to be prescriptive as participants did not want the Principles to be a "tick the box" code. The Principles should trigger discussion at board level about corporate purpose, mission, culture, remuneration and stakeholders.
Boards have to apply the principles from their 2019 accounts. Reports on the Wates Principles will be published in 2020.  Going forward, the FRC will need to monitor the application of the Principles. James Wates CBE encourages companies and boards to use the Wates Principles because they promote "good business", which is a force for good for society.
If you are not a member of NEDonBoard, you can join the professional body for non-executive directors and board members today: NEDonBoard membership. Upon joining, you will be able to access the key learnings of the event, a replay of the discussion as well expert interviews from our speakers. Should you have an inquiry about our services, membership options, courses and training, please contact us at [email protected].
The blog available to members can be found here.
For more information on the Principles, please contact us at [email protected]. We have designed on an online module explaining the Wates Corporate Governance Principles in partnership with Herbert Smith Freehills. The module is part of the "NED on Board Foundations" course.
On behalf of NEDonBoard, Elise Perraud