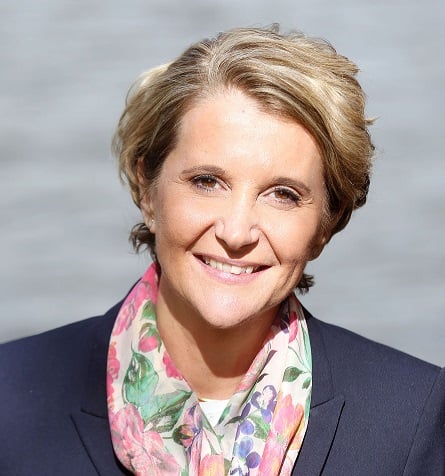 Written by Elizabeth Osta
Non-executive directors are faced with unprecedented change brought by the digital revolution. They are accountable for steering their companies in the right direction.
Digital strategies are the key to unlock unprecedented growth and yet several studies point that most of the spend in digital is often going to waste and does not realise the expected growth.
To realise growth in digital transformation, it is crucial to clearly select use cases that will create either further adoption and grow the customer base or digitise and automate thus reducing the cost base or both.
Whilst a lot of focus need to be put on use cases that deliver user/customer value, it is important to ensure that the key technical enablers are in place, or else the company will face limited scalability of successful initial proof of concepts in digital transformation.
A comprehensive strategy encompassing not only digital but also data, IT architecture and cyber security is fundamental: digital, data, IT architecture and cyber security are closely interlinked.  A solid data architecture, IT platforms,  storage and cyber security strategies are key pillars for long term sustainability.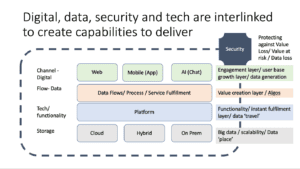 Source: E. Osta
Digital transformation needs to be underpinned by careful considerations on the underlying processes to be optimised and this may have strong implications  on data flows and data architecture.
Data architectures are enabled by IT choices on platforms and storage: decisions on the latter cannot be taken in isolation.
Cyber security needs to address the intrinsic vulnerabilities of the chosen IT platforms, storage, data architectures and digital channels. In cyber security a tailored, calibrated and focused approach yield stronger protection than generic 'one size fits all' approaches.
Often discussions on digital transformation, data, IT, cyber form separate items on agendas discussed at Board level or are not discussed at all and delegated to experts that will tackle these items in isolation. We advocate for Boards to be involved in steering the strategic direction with a comprehensive approach.
Related post: The 8 take-aways of our insightful "Digital Expertise In the Boardroom" Board Best Practice Event
About Elizabeth Osta
For over 30 years, Mrs Osta has driven digital transformation, data solutions, and cyber security transformation in financial services, retail and worked in consultancy thus getting breadth of issues and solutions across a large number of companies and sectors as well as at times experiencing first-hand the limitations of a siloed approach. She is advising companies and boards on how to tackle effectively with a comprehensive and all-encompassing digital transformation strategy.
About NEDonBoard
If you are a company looking for in-house training on digital, data, IT and cyber security or ongoing training opportunities for your board, please contact [email protected]. NEDonBoard is the UK professional body for NEDs and board members. NEDonBoard is an independent membership and training organisation.
If you are not yet a NEDonBoard member, we invite you to become an Event Member to be up to date with boardroom development, leverage the strength of the NEDonBoard community and secure new NED roles.