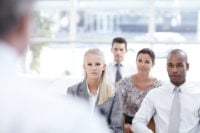 Dr. Sabine Dembkowski is an international board advisor, and as such her interview with NEDonBoard is well worth a read to find out about preparing for a new board role and what sets apart a well-functioning board from one not so well-functioning.  (For more about Dr Sabine please scroll to the end of this article.)
What should non-executives do to be correctly prepared for a new board role?
Being an NED appears to be highly desirable. However, NEDs should not just grab the first opportunity that comes along but conduct in-depth research and ask themselves some tough questions:
Conduct in-depth research about the company
Over and over we see that candidates are so excited to have the opportunity to serve as a NED that they forget to do vital research. What is the real situation of the company? What is the financial situation? Are there any law suits hanging over the organisation like a damaclus sword? What are the real challenges?
Ask yourself: Do I fit in/to this organisation?
Research indicates that executives in any role in an organisation flourish if their personal value system is a good fit to the values of the organisation. Do not be mistaken here, this also applies to NEDs!
It is advisable that you do meet your board colleagues and some key executives to assess if it really is a good fit.
Ask yourself: Can I really add value to this board?
We can see that boards have come a long way and there is increasing professionalism in the boardroom. The days where you can show up 4 times a year and enjoy a good lunch are over or hard to come by. The best way to ensure that you have a thriving NED career is to ask yourself up front the tough question: Can I really, really, add value to this board?
Your performance on any board will contribute to shape your personal brand and profile in the market place!
Investors and the public market have become a lot more savvy and are able to assess and measure performance. Remember that you are part of this story.
Take your time, listen and observe before you shoot
When you have signed on the dotted line it is advisable that you do take the time, to listen, observe and learn. At the beginning of a NED role it is quite a time investment to understand the organisation and all its issues.
The time you take here is a good investment. When you really got to the bottom  of (or at least deeper into) the issues, start to have conversations outside of the board room to understand even more, form an opinion about the best way ahead and prepare the challenging questions.
Do take the time and read the board papers
Research indicated that on average NEDs claim to take about 3 hours to read the board papers. However, given the average length of board papers and assuming an average reading speed it actually takes at least three times as long to read the papers. This indicates that there is a big gap and one can only assume that NEDs do not read all that is available. These days it is a risky strategy!
If the board papers are too long it is far better to admit that this is far beyond what you can read and initiate a programme to cut down on the board papers. There are some fantastic solutions available and a lot can be done to tackle the issue around unloved, lengthy board papers.
What sets apart a well-functioning board from a not so well functioning board?
It always amazes me that we are only at the beginning of research on effective boards. The world to date relies on anecdotal evidence. There is more to it – far more.
Here are just seven levers boards can use to function well and ensure that they contribute to deliver superior returns to all stakeholders.
Lever 1: Ensure that you have a balanced composition of skills, know-how and role    behaviours on the board.
Lever 2: Understand the individual strength of each member and assign roles and responsibilities accordingly.
Lever 3: Ensure clarity of roles and responsibilities.
Lever 4: Ensure that you have a joint vision and everyone is aligned around this vision.
Lever 5: Understand who is best suited on the board to resolve conflicts between the board and management.
Lever 6: Structure the board's work in the best possible way.
Lever 7: Take the time to regularly review and reflect about the board´s work.
Dr. Sabine Dembkowski is an international board advisor. She was educated in Germany and the UK and earned her Ph.D. in Bristol before starting her career with A.T. Kearney and Monitor Company in London. She established her own leadership services company in Germany and recently returned to the UK to establish Better Boards www.better-boards.com an independent consultancy focused on developing executive and governing boards. The distinguished approach of Better Boards towards Board Audits has been through stringent peer review processes in the US, UK and Germany and is published in leading magazines. Sabine has distinctive know-how in working for and with leading investors / Private Equity firms and views board development as the next lever for value creation.