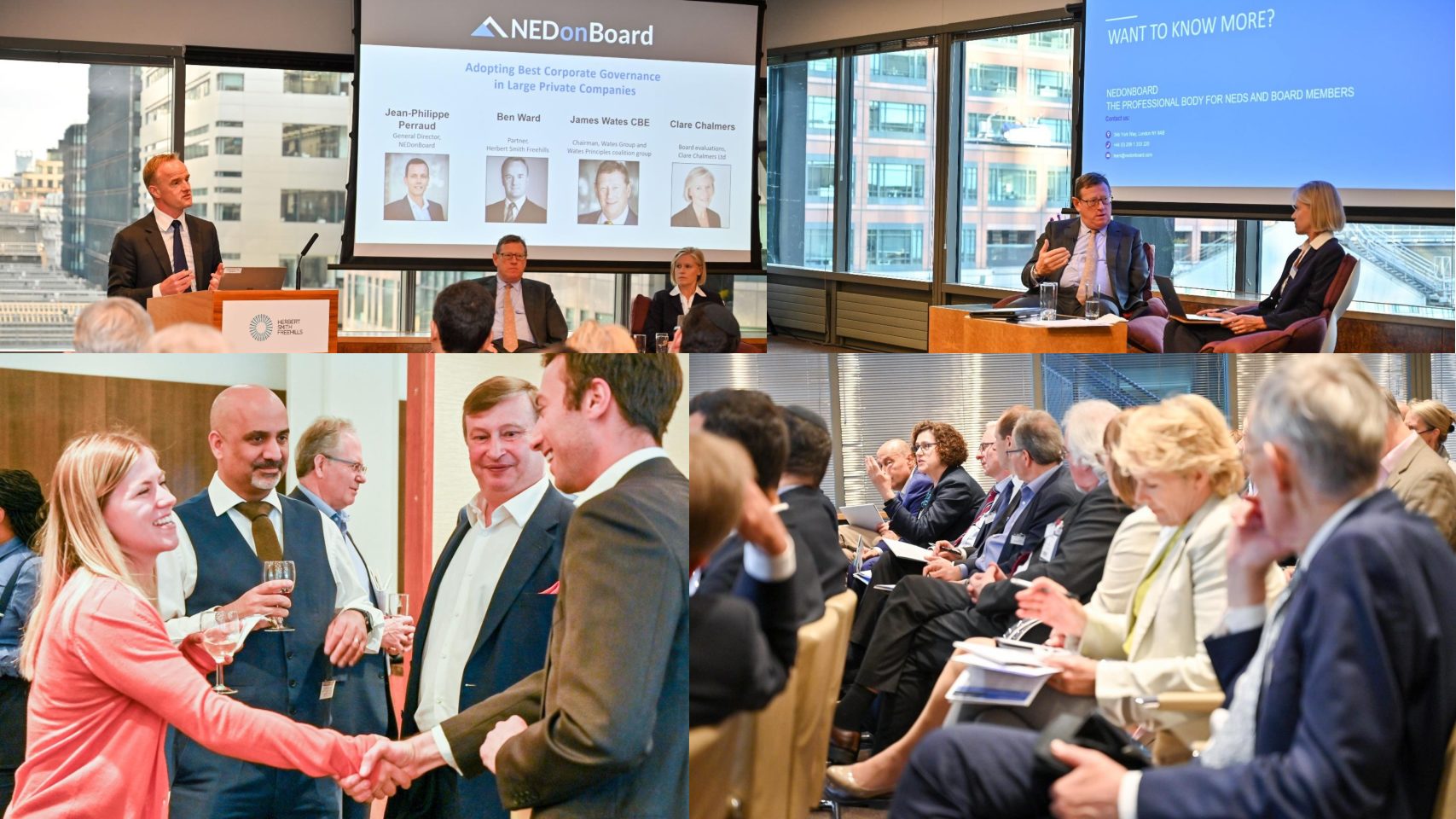 The Wates Corporate Governance Principles came into force in 2019 and apply to large private companies. In this short interview, David Styles, Director of Corporate Governance at the Financial Reporting Council discusses the purposes and use of the Principles. We take this opportunity to remind our audience that NEDonBoard welcomed Sir James Wates CBE in May 2019. A full recording of the event and an interview of Sir James are available to NEDonBoard members.
Purpose of the Principles
The UK has a good track record when it comes to corporate governance. Its high standards are respected across the world. In 2018, the Corporate Governance Code was updated. But sometimes companies get things wrong, and when they do, a wide range of stakeholders are impacted. This can happen whether you are a listed company or privately held. Prior to the Wates Principles, there have been limited opportunities for private companies to report on their corporate governance, although private companies have a large social and economic impact. In addition, many private companies have a good corporate governance story to tell. The Wates principles give them the opportunity to do so.
Why subsidiaries should report
Private companies can take different forms e.g. subsidiary, private equity held, family owned. Directors have duties to the company on which they serve. Directors of subsidiary company do not owe their duties to the parent company. They owe their duties to the subsidiary company. As such, it is important that the subsidiary company reports on its corporate governance arrangements and that stakeholders understand how decisions at the subsidiary company are made.
Using the Principles
Many private companies have a good corporate governance story to tell. They might want to use the Wates principles to think about how to apply the Wates Principles. The legislation is not specific so the Wates Principles provide a helpful framework, which can be adapted to meet the different forms that private companies take. The Wates Principles are a flexible system ('Apply and explain' approach), with some rigour associated to it.
Compliance monitoring
The FRC and its successor body will be responsible for monitoring compliance with the Principles, with support from the coalition group chaired by Sir James. Reporting under the Wates Principles will start in 2020. David Styles indicated that a report will be produced at the end of 2020 on the quality of reporting under the Principles.
Related blog posts: NEDonBoard keynote speaker event on 21st May with Sir James Wates, Sir James Wates' nuggets of wisdom
For more information on the Wates Principles, please contact us at [email protected]. We have designed on an online module explaining the Wates Corporate Governance Principles in partnership with Herbert Smith Freehills. The module is part of the "NED on Board Foundations" course.
If you are not yet a member, join NEDonBoard today and unlock the benefits of joining the UK professional body for NEDs and board members.
On behalf of NEDonBoard, Elise Perraud