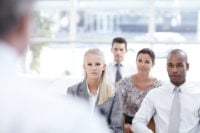 Things to consider as a NED
 As an NED, it is essential that you have access to high quality information – in particular when the business you are working for is going through major challenges, upheaval or economic uncertainty.  How do you get a better insight? Well, here are five questions to ask yourself – to close the uncertainty gap.
Things to consider as a NED, by Simon Jones, Hidden Value Partners
Have you got ears on the ground?
As an NED, you will have a good understanding of business issues, and no doubt some specific skills that you contribute to the Board.  But how well do you understand this particular business?  To understand it better, would some ears on the ground (at different levels of the business) improve your understanding, insight and contribution?
Does your information have the breadth and depth you'd like?
You may have been appointed to support the Board in a particular way – and as a result you may get close to the CEO and other Executives.  But this could take time away from understanding what is happening in the wider business.  You may feel confident and on top of the information that you are presented, but does it give you the whole story of what is going on? Would a wider sounding board with staff – in terms of the depth and breadth of information – get you closer to some of issues you'd like to know more about?
How confident can you be about what you are told?
As an NED, you will be perceived by most staff as aligned to the Board.  Some might trust you, knowing you can be relied upon to treat any information they give you with confidence.  Others might be more cautious.  They may think whatever they tell you will be shared with the Board.  This may prevent you from getting people's real views, or they may merely tell you want they think you want to hear.  Ask yourself, 'How objective and independent is my information?'
Are your sources identifiable … and could they undermine you?
You may have no difficulties with access to staff, and access to quality and reliable information – giving you a wide and detailed picture of the business.  However, that too can be a problem.  If Board members know that you have contacts with particular staff, they could use this, and people's views of that staff member, to undermine your arguments.  Do you perhaps need ways of being more detached, and collecting information in a more anonymised way?
Do you have the time to collect the information you need?
You might know some of the staff, either vaguely or very well … or you may work with some of them on specific projects for the Board.  But how good are your interviewing and, especially your listening skills for getting the most out of your rare time with them?  And do you have the time to explore their issues and concerns?  For example, how good are you at getting people to open up and share with you their views?  And could you spot if someone was, worried, stressed out, or hiding something?
If your business is facing a crisis, or a change in ownership or management, one solution to the 'uncertainty gap' above is to call in independent Inquirers – who you can use to collate the ideas, experiences and insights of a cross-section of staff.  This has three benefits.  First, the inquirers have the advantage of being able to work more speedily and comprehensively than yourself.  Second, their information will be objective, detailed and anonymously supplied.  And third, from our experience, they will unearth ideas that were forgotten, neglected or ignored.