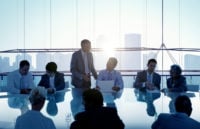 Dr Elizabeth Haywood, an experienced NED, shares her top NED tips in this expert interview with NEDonBoard.  Also a Partner at Haywood Hain, a consultancy offering specialist skills and advice in executive and non-executive recruitment, management due diligence, media/communications and public affairs, Dr Haywood provides some great insights.
How do you become a non-executive director? How do you get your first role?
Networking, getting your CV into NED-ready shape and getting lucky are my three tips!
If you are a senior executive in a FTSE 100 company, you've got a good chance of being sought out by head-hunters, particularly if you tick a particular box, like finance. If you've always worked in smaller businesses or the public sector, or you're a generalist, this is less likely. Networks – with professional groups, at business breakfasts, sector-specific events – is crucial, and don't feel shy about picking on a handful of chairmen/NED board members you already know to give you advice (and of course, introduce you to potential opportunities).
Much of this game is still about who you know, about being in the right place at the right time – which is where luck comes in. For example, my first private sector board role came through approaching the chairman (whom I did not know) at an event, and giving him the 'elevator pitch' on what I could do for his company. I wasn't even expecting an NED role to come out of the conversation – I just hoped for some consultancy work! Prior to that, I had had a number of unpaid Trustee / NED roles: these give you good experience and you should certainly consider them as part of your portfolio, but be warned: it is very easy to get sucked into spending all your available time doing good works, and if this is not what you want (you'd rather get at least one or two paid NED roles), you need to be hard-headed about how much you accept.
The other point I mentioned is getting your CV NED-ready. It's not the same CV as you'd write for an executive position. It is far more focused on what you can contribute to the Board – your value proposition, your transferable skills – rather than a chronological demonstration of your roles and the companies you have worked for. What are your strategic skills and achievements? Women On Boards do an excellent webinar on this for their members. Keep playing with the basic structure (no more than 2 sides) until it feels right, and several of your friendly chairmen/board members have given you advice on it. Then hone it for each role you go for to be directly relevant.
What challenges can you face as a non-executive director and have you any recommendations for how to overcome these?
It can still sometimes be a challenge being heard for a female board member: you may suggest something and it is ignored, only to be suggested by a male board member (and enthusiastically agreed!) sometime later … It's important to make sure you make important points – don't just speak for the sake of it – if necessary, lobbying other board members individually before the relevant meeting to ensure their support. You can feel out of your depth: we can't all be finance or risk analysis or IT experts, but it is important to attend events which make you feel more comfortable on such matters (e.g. finance for non-financial managers) and learn how to ask intelligent questions on them. Always remember you were asked to join the board for particular attributes: focus on how you can best add value and apply them.
For more information about becoming a non-executive director and secure your first appointment, please visit the NED Accelerator Programme course page, an acclaimed and proven NED training.