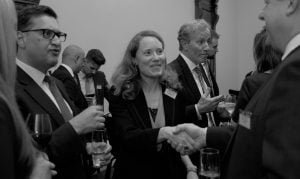 On 24th April, NEDonBoard hosted a panel discussion around best practices for board risk committees in the financial services sector. NEDonBoard takes this opportunity to thank the panellists, Michael Bartholomeusz, Marcia-Cantor Grable and Nick Dexter. Elise Perraud chaired the panel and moderated the discussion. This article outlines some of the highlights of the insightful discussion, which was followed by a networking session for participants.
The panellists stressed the benefits of having separate board risk committees in the financial services sector, to filter the matters that require escalation to the board. Michael Bartholomeusz highlighted the need for a dedicated body to reflect the complexity of business and regulatory environments, the expertise required to understand and assess matters brought to directors and their limited time to deal with an increasing number of priorities.
Board risk committees are effective to the extent that the Chair and the Chief Risk Officer (CRO) work in tandem. Marcia Cantor-Grable stressed how the Chair and the CRO should agree how complex and technical discussions will be captured and recorded.
Good risk reporting is essential to effective governance and decision-making. Nick Dexter said that good risk reporting starts with a well-articulated risk appetite and includes current and forward looking analysis as well as scenarios. Board risk committees should also examine firms' risk exposures in light of past strategic decisions and ensure that firms are running the risks that intended to be exposed to. Emerging risks form part of risk reporting and members of board risk committees must have an understanding of how emerging risks will impact the firms' business, operations and financial conditions.
Risk culture is an area of regulatory focus. The Prudential Regulatory Authority has assigned the responsibility of culture development to the Chair of the Board. Panellists agreed that the desired corporate and risk culture is set at the top.
A Board Risk Committee Best Practice guide has been written and is available to the members of the NEDonBoard community. The guide takes further some of the themes developed by the panellists.
Laura Marianello and Elise Perraud on behalf of NEDonBoard
Laura Marianello is one of NEDonBoard's ambassadors. If you would like to know more about the NEDonBoard ambassador programme, please contact [email protected].
If you would like to know more about the NEDonBoard board best practice series, contribute to one of our upcoming documents and panel events or suggest topics worth assembling a task force, please contact [email protected].