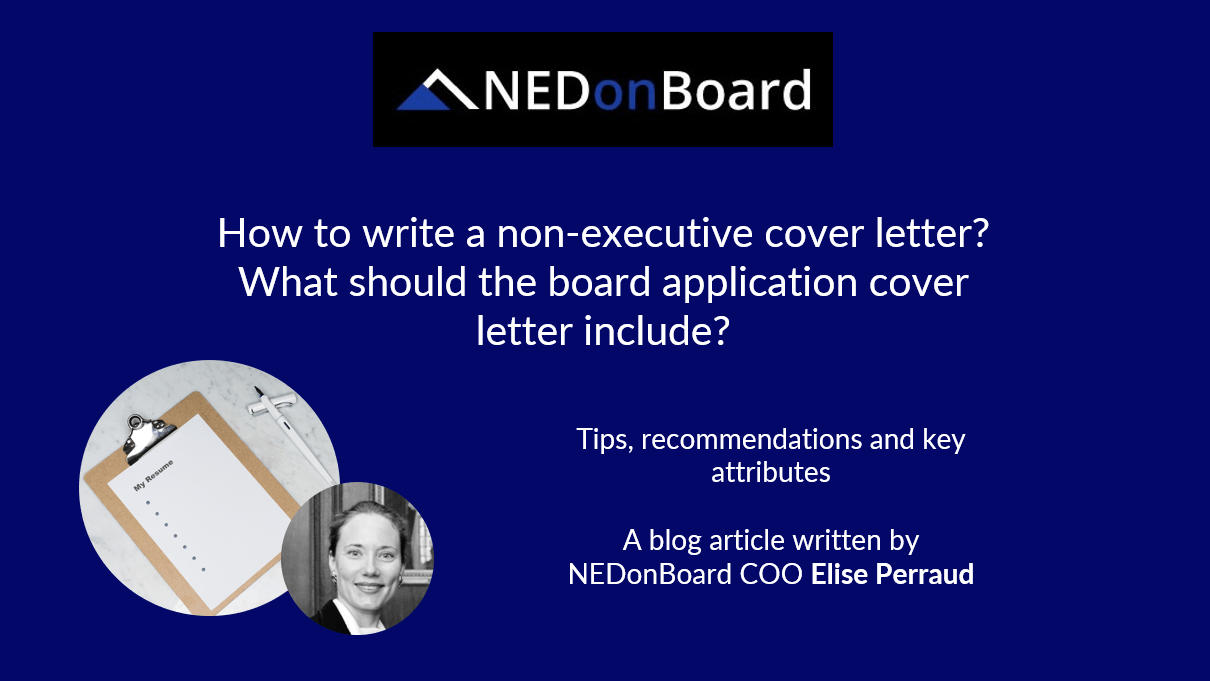 How to write a board application cover letter? Top recommendations and tips to write a cover letter that will lead to interviews with NEDonBoard, professional body for NEDs
Are you looking to apply for a board vacancy? It is likely that you will be asked to send a cover letter alongside your NED CV as part of the application process. Are you struggling to write one? Are you looking for guidance on "what good looks like"? If you don't know where to start or want to benchmark your draft to best practices, read on.
The cover letter is an essential component of your application
Is a cover letter important? Yes! It is essential because this is an opportunity to explain why you should be invited for interviews and it meets a purpose that it is different from that of the NED CV.
A cover letter showcases your skills, experiences, and motivation. You may also convey personality traits. Your NED CV evidences your knowledge and expertise.
If you get the cover letter right, you will dramatically increase your chances to be shortlisted and invited to interviews. An ineffective cover letter will take you out of the recruitment process.
What are the attributes of an excellent non-executive cover letter?
Your cover letter will have the following attributes:
Concise
Relevant
Tailored
Consistent
Coherent
Your cover letter should answer 4 important points
What is the content of a non-executive cover letter?
The cover letter is sent to the hiring manager. He/she may be an HR professional, the chair of the board or an executive search firm. He/she will want to know that:
You understand the non-executive director role.
You have capacity to join a board of directors.
You are the right fit for the organisation.
You understand the organisation.
You are motivated to join the organisation.
In a summary, research the organisation, spend the time necessary to write a high-impact board application cover letter and send it by the deadline. Now you know how to write a non-executive cover letter! Best of luck and share your success with us ([email protected]).
Additional resources:
What do you need to include in your Non-Executive Director (NED) CV?
Why and how NEDonBoard members should highlight their membership on their NED CV
For more about the NED CV and cover letter, and to access template, join our NED Accelerator® Programme. This self-paced highly practical course for accelerate your journey to the boardroom includes specific modules to help you craft brilliant documents that lead to success. Find out more at this link and hear from our alumni who went out to build their NED portfolio. To sign-up, it's here.
Ready to source NED roles and apply? Search our jobs board for non-executive opportunities. The jobs board is a benefit of the NEDonBoard membership.
Written by Elise Perraud, NEDonBoard COO