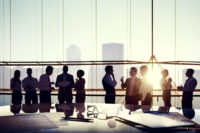 A recent article by The Guardian, highlighted a panel discussion around recent developments in board diversity.  Of note it focused on conversation around the the movement away from what may have previously been considered the 'typical NED', and increase in female NED representation and those from an ethnic minority background.
However, more than this, boards are being awoken to the need to focus on diversity of thought.
It's not the first time we've written about this, but given the Guardian's article we thought it worth returning to the subject as boards need to bring in experience where they currently lack specific expertise and understanding relevant to their business, and NEDs who can constructively challenge the board.
For some, this includes areas such as understanding the Internet of Things better (in which case our upcoming Demystifying the Internet of Things workshops may be useful), through to insight from those more specifically aligned with the organisation's target audience or stakeholders.  As an example of how board diversity is progressing beyond, for example, gender balance in the boardroom, not long ago we interviewed Raphaelle Vallet, only recently graduated from university, bringing a fresh, young perspective to the board of the charity she is a trustee of.
There have been numerous research papers and reports produced focusing on the importance of diversity of thought. The ICAEW, for example, produced a thought leadership Dialogue in Corporate Governance, including the question of 'How Diverse Should Boards Be', which is worth reading.
Our advice, if you're looking for a NED role, really consider – what skills can you bring to the board which they may currently or soon be without and could really benefit from, specific to that organisation.