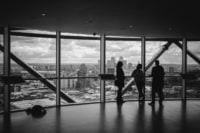 Understanding how others go about developing their non-executive career can help create a blueprint to follow, so we interviewed Maria Harding to find out more about her experience and advice. With a background in food & drink and professional services, Maria Harding moved into a portfolio career of NED roles after having her family in 2011. Today she holds paid and voluntary NED roles in transition services, health and education as well as consultancy in food & drink.  She is particularly passionate about digital communications and how this can add value to an organisation. For more about Maria please visit: https://uk.linkedin.com/in/hardingmaria.
1) How do you appropriately prepare for and assess board responsibility when joining a board for the first time?
Knowing that I wanted to eventually move into NED roles later in my career, I started preparing for the role several years before I gained my first appointment. I undertook the IOD Diploma in Company Direction in 2007 and then followed it up with the more specific IOD Non-Executive Director Master Class in 2010.  Both courses were excellent in providing thorough preparation for board roles and I would recommend them.*
Today when I am assessing specific board opportunities that I am interested in, I find that the pre-appointment due diligence check list in the Higgs Report 2003 on the role and effectiveness of the non-executive director to be very helpful in terms of guiding my research into the organisation and the risks of the environment in which it operates. It is essential to go into any role completely informed.
2) How can you ensure to stay current of your non-executive director liabilities?
Externally, I find online resources for non-executive directors such as those provided by the IOD, ICSA, NEDA and NEDworks to be very helpful for keeping up to date with governance issues.  For continuous updates on all the sectors in which I am involved and specific issues that I am concerned about, I find social media feeds to be invaluable.
Internally, it is also essential to build the right relationships in the organisation, with both the executive and other (often more experienced) NEDs, in order to ensure good awareness of the challenges and therefore risks that the organisation is facing day-to-day in order to be able to input appropriately into board meetings and meet your NED responsibilities.
3) Please can you tell us a bit more about you. How did you first become a non-executive director; what made you decide to become a NED; and what do you enjoy most in these roles?
 Having gained two law degrees and an MBA, I enjoyed an executive career in food & drink and professional services before having my family in 2011.  At that point, I decided that the time was right to move into a portfolio career of NED roles in order to achieve better work- life balance.  However, getting that first role is always a challenge! In order to gain non-executive governance experience, my first NED role in 2011 was as a charity trustee with a regional charity where I gained invaluable experience including a strategic re-organisation and CEO recruitment.  I also became a community school governor in a local primary school, getting involved in issues such as head teacher recruitment and performance management.  Since then, I have slowly built on these roles with a range of both paid and voluntary roles in transition services, education and health as well as consultancy roles in food & drink.  My aim is to add more, in particular where I can add value in the field of digital communications.
What I enjoy most about my roles is their diversity in terms of sectors but also their commonalities in term of challenges and risks.  I particularly enjoy the opportunity for the cross-fertilisation of ideas across my roles.
*NEDonBoard is running a diploma for aspiring and experienced non-exec in 2017.  To register your interest and find out more please email us at [email protected]