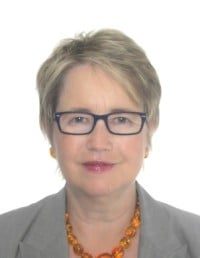 Many non-executive directors simultaneously hold a variety of board-related roles as non-executive directors, trustees, governors and board advisors.  We spoke to Charlotte Morgan about the variance and similarities, and her advice when considering roles.
Charlotte has a varied NED portfolio. She is an independent NED at Ford Credit Europe (FCE Bank plc), one of the UK's largest banks, and a charity trustee in arts and education – as Chair of Second Movement, which supports musicians and stage artists starting careers in opera, Director of a successful drama college in Oxford, and Governor of one of the Methodist independent schools.
Her executive career was in financial services, most recently in global groups ED&F Man and Standard Chartered. She is qualified as both a Chartered Accountant and Corporate Treasurer, and plays an active role in the Association of Corporate Treasurers, other professional bodies, and City networks. You can find out more about Charlotte through her LinkedIn profile: https://uk.linkedin.com/in/charlotte-morgan-107a764
How do your independent roles vary, being a company non-executive director, a charity trustee, as well as a school governor?
The activities of my companies are very different, and I enjoy that variety. The roles involve a range of different stakeholders: customers, regulators and shareholders at Ford Credit Europe; beneficiaries and donors in the charities; and students and teachers at the school, plus the wider leadership of the group of schools it belongs to. The organisations have different objectives, but there are links between them. Ford Credit Europe is a regulated bank, so there is a lot of complex technical regulation to stay abreast of, and my work with the policy committee of the Association of Corporate Treasurers provides useful background for this. In the charities we also have regulation, but another major part of the role is motivating people, including volunteers, and fundraising. This creates varied challenge, lots to learn, and no time for complacency! It's everything I hoped for when I embarked on a portfolio career, and I'm very lucky to have found this fantastic mix of roles.
How do these different roles complement each other?
Fundamentally the responsibilities of a director of any company are similar, with focus on strategy, governance and risk management. My roles complement each other because my companies all operate in fast-changing environments. As a director you need to be looking ahead, anticipating the challenges that the business will face, assessing risk, and assessing the business's performance. You can improve these skills by applying them in different environments. Working with creative people in the arts is also an excellent complement to any role in business, because in the arts you find a flood of new ideas coming through, and see people attempting the impossible. Most businesses don't innovate at the same pace, but they need to be open to innovation, or their competitors will overtake them.
Another link between the roles is that as a Chartered Accountant and Treasurer I take particular responsibility for financial performance and risk, and these raise similar issues in any organisation. But the most significant feature my roles have in common is that I work with some very talented and committed people on my various boards. And the boards all include people from diverse backgrounds. So the meetings always involve challenge and debate. Although the subject matter of the discussion will be very different, the process of challenge is similar. So participating in these different meetings improves my ability to add value on all my boards.
What advice do you have for people considering a NED role and selecting which ones to apply for?
 The most important judgement to make when you consider taking a board role, in my view, is whether you will continue to find that business interesting over the time you expect to hold the role – normally five or six years – and whether the management of the company share your values – that's important because at the end of the day you may be held responsible for what they do.
Time and again we have heard Charlotte's advice echoed, so with this in mind, to you the reader, what roles could you apply for which will continue to hold your interest?