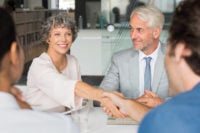 Whether you are an experienced professional in the industry or a young working professional, you should know that becoming a non-executive director is no walk in the park. Even professionals with decades of experience have to work hard to secure their first appointment in this well sought out role. So, the question is – how do you become a NED in a field where the requirements are stringent and the competition is tough? Read on to know more:
• Improve Your Resume Constructively – Most professionals interested in taking up a non-executive director position start from a school governor stage. This is one way to gain valuable experience in a profile where the powers are the same as that of a NED. So basically, it is a way of getting hands-on and practical experience instead of something that would just decorate your resume.
• Work As An Executive – People currently working as a NED recommend looking for a job while already working as an executive in a reputable organisation. Thus, during the job hunting process, this can be pointed out and it would greatly help your chances of securing a dream position.
• Gain Experience – Experience and age matter a lot when you look for a NED position. This doesn't mean that under-35s have no hope of making it in the profession but just that a well-experienced resume would help you go further than others. Charitable organisations and NPOs are particularly known for looking down upon inexperienced applicants for non-executive director position or trustee.
• Build Personal Attributes – It is a popular saying in the non-execs circle that no NED has all the qualifications. This is because the list is so extensive, it is virtually impossible for one person to have all the personal attributes. A non-executive director must be independent, challenging, passionate, objective, entrepreneurial, mature, intelligent, supportive, well-rounded, interesting, and smart. Certain other attributes like the stability of personality, strong character, and resourcefulness are also important.
• Possess a Business Background – This requirement is not merely in terms of qualification but also in terms of experience. This is why financial analysts, chartered accountants, MBAs, and other people coming from a heavy business background secure more easily a non-executive director job. However, it is possible to become a NED even if you don't come from a business background.
• Get Through The Interview – Most interviewers who look for NED candidates don't actually know what they want. Thus, it is your job to help them see you in that position. Think about your own capabilities and qualifications. Try to imagine your role as a NED and the benefits you would bring to the organisation. This would be easier if you have served as a NED in housing boards and charitable organisations. Feel free to quiz the chairman about the big issues and the organisation's concerns. This would give you a good idea about the governance path you need to follow for maintaining the direction and morale of the organisation.
So, how do you improve your chances of becoming a NED? First of all, you need to be best prepared. Never underestimate the importance of networking. And finally, have patience when you are looking for an open position. Next step, ensure you're ready: www.nedcourse.nedonboard.com