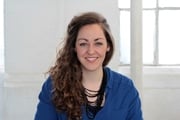 Sarah R Pierce is Founder & CEO of Sohi World, a recently launched video networking site for start-ups and innovators. She has recently joined the board of Kingdom Bank as a Non Executive Director. Kingdom Bank is UK based provides borrowing ,savings and insurance solutions to charities and churches.
Having completed your undergraduate degree less than 10 years ago, and as someone who is under the age of 30 you're a great example of a younger generation of NEDs bringing value to the board.  How did you go about getting your first NED role?
A: Yes – I am under 30… for another few months. How did I get it?
# I developed the necessary skills, experience, maturity and confidence to be useful to a board!  – Through progressing quickly in my career at RBS and reaching Director level age 25 – I gained both responsibility and influence young. Alongside managing transactions and the technical execution of deals I quickly found my 'peer' group became a 45+ year old CEOs and FDs of companies as well as the Corporate Finance advisory community – and I became comfortable holding my own in that audience. I won the Professional Woman of the Future award in 2013 and then gained additional public speaking and panel opportunities which have proven a great springboard to enhance my business network and give me access to key stakeholders.
# I gained board level experience.  I've always 'spoken truth to power', even as a graduate at RBS I was having coffee with the CEO of the Corporate Bank! But actually joining a board is a different experience to networking with executives – as you carry the weight and responsibility of governance as well as the creativity of owning strategy and vision. My first experience was self-created – I built a board for the internal network I set up at RBS. Then I became a charity trustee of the Eden Network in London, and finally, I gained further experience in an observer seat capacity when working at Praesidian Capital.
# I reactively and proactively networked to develop the sort of contacts that would bring about my first Non-Executive Director role.  Since most NED roles are gained through network contacts I feel it's helpful to lay out as plainly as possible exactly how this happened… so here you are…
In 2009 I graduated from Oxford University with a degree in Maths and started work at RBS – working mainly in lending to SME's. In 2010-11, outside of work, I helped the Shaftesbury Partnership with a project they were setting up called Mission Year having heard about it through a friend. I helped them run their training weekends (for free) and met Ewen who was in the first cohort of Mission Year participants. Top tip – help other people build their visions.
In 2013 – I got an email from Sam from a boutique head-hunter, he worked with Ewen. He was recruiting for a Director of Transformational Growth at Streetbank and asked if I would be interested in applying. I said no thank you but added that I'd like a coffee to hear more and meet him. Top tip – don't say 'no', say 'no but I'd love to meet you for a coffee'!
Over the course of the next few years I caught up with Sam every 6 months or so and we shared stories of how our various businesses/ projects were going. He was a useful contact when I came to set up Sohi World as he had already launched his own start-up Streetbank.
Then in 2017 I heard from Mark at the same boutique head-hunter, he wanted to know if I'd be interested in applying to join the board of Kingdom Bank. Top tip – keep in touch.
Diversity and diversity of thought on boards is increasingly recognised as an important component of an effective board.   Have you felt conscious of diversity on boards?
A: The Kingdom Bank board is all male with an average age of 58. So, yes, I bring diversity of age (I'm 29) and gender (I'm female).
But, do you know what's more important? I'm an outsider. I'm fresh to the NED scene, and I'm fresh to Kingdom Bank, I didn't know anyone on the board or in the company, so I have no pre-existing loyalties. I feel independent. And strong governance requires true independence of thought.
From the first interview, to meeting the CEO, to the first board meeting, it was clear to me that the board are keen to welcome diversity of thought and are eager to hear my thoughts. They are humble, open and experienced. They have certainly set the bar high for my second Non Executive Director position!
Have you had a mentor to help guide you in your NED development? If so, do you have any advice in this regard based upon your personal experience?
A: I have maintained regular coffees with many of the people I've previously worked with. Two have been particularly helpful and constant in their support and encouragement of my career. Nick Jordan – who was Head of Risk in the RBS Corporate Bank and was Chair of the RBS Community Leaders initiative I founded, has now developed an NED portfolio so it has been helpful to discuss NED roles with Nick. He encouraged me to put the work in to planning and keeping up to date with the regulatory environment – he's a firm believer that none of these positions come to you by chance – you have to work hard at building knowledge and expertise. And John Cottle – a fellow Director within the lending team (but with an extra 20 years on me!) – he is still working at RBS and we meet up and chew the cud on all manners of topics – he's a commercially savvy mind on any and all matters!
That said, I think it's always helpful to speak to people who don't yet know you too…
Earlier this year I felt like I would like to meet more portfolio NEDs and, during some research on the payment services industry, I found Kevin Brown – an ex-RBS employee who now has several high profile NED roles all connected to that industry. So I worked out what his email address would be and I cold emailed him. We met for a coffee and he gave me some very straight up advice on my next steps – in particular, he encouraged me to focus on one sector – i.e. banking. One of my downfalls is that I'm interested in everything, for example I developed RBS's lending appetite for Smaller Housing Associations as a side project when I was at RBS and have always had an interest in Housing Associations since, but having spoken to Kevin it felt clear that I should make a choice and try to focus, so I have – banking it is.
Do you have any further tips or advice for someone who is considering taking on board level responsibilities or developing NED experience at a young age?
A: Gain the skills, experience, maturity and confidence that will make you useful to a board. You can do this wherever you currently work, but larger organisations are particularly helpful for navigating influence and governance.
Gain board experience through voluntary roles – E.g. become a School Governor, or Charity Trustee.
Network both reactively and proactively. Get in touch – I'd be happy to have a chat.
If you're a non-executive director, why not email NEDonBoard ([email protected]) and share with us you top pieces of advice or  the experiences you've learned from in your NED career.