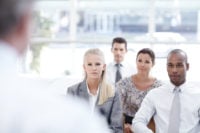 Robert Clarke is a portfolio NED and entrepreneur.  We asked him what his top three pieces of advice are to being a successful non-executive director…..
How did your first non-executive role come about?
After successfully managing an exit from my own company – I thought I knew a thing or two and wanted to pass on knowledge and experience – good and bad. I was asked by a VC to step in and assist a start-up that they couldn't "work out". There was a lot of talent present but they needed direction.
What role does a non-executive director have on the board?
A NED is a Director just like any other on the board so has a vote and has the same fiduciary responsibility. I personally like to challenge the exec element as far as possible even if it is not popular, and ensure they are thinking through every key decision.
What should a new non-executive director do when they first join a company?
BEFORE a NED joins a company they should understand the risks associated with joining and that this is not a short term gig. It's time consuming, and should be a passion, not a chore.
Please share with us your top 3 pieces of advice to being a successful non-executive director
Challenge everything;
Champion your firms;
Don't spread yourself too thin
If you're a non-executive director, why not email NEDonBoard (to [email protected]) and share with us the top pieces of advice or experiences you've learned from in your NED career.